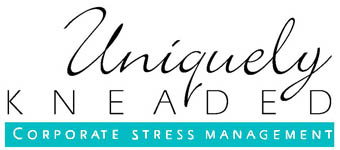 ®

Uniquely Kneaded is a premier nationwide corporate stress management company. We encourage balanced living, better health, improved creativity and productivity by empowering people in the work place to take effective control of their stress. Our focus is to assist people with their stress management issues through therapeutic on-site massage and informative seminars.
Discover the un-stressed you.



Home

Chair Massage Therapy

Stress Management Seminars

What Others Are Saying...

Contact Us

Online Store

Upcoming
Events




If you can answer yes to 2 or more of these symptoms you could benefit from our stress management techniques.


Do you experience:



Headaches
Fatigue
Muscle pain
Hypertension

Anxiety
Irritability
Ulcers
Catch colds or flu often





Did you know?


Studies indicate that 75-90 percent of doctor visits
and hospital admissions have a stress component.


Certified Women

Owned Business
Discover the un-stressed you!
---
---
Copyright © 2004-2015 by Uniquely Kneaded. All Rights Reserved.